Riverside, CA – September 26, 2017
HHCI 100% Accident Free on over 50,000 accumulated man hours on site!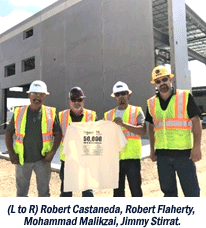 The Fresno Army Reserve Center team has achieved a major accomplishment on their project. The team has now delivered over 50,000 accumulated man hours on site 100% accident-free. Not even a first aid incident!
This is a very difficult task to accomplish with a site spanning over two acres, dealing with 110+ degree heat, overseeing all types of construction types from underground, to concrete, steel erection, crane work, etc.
Hal Hays Construction Inc. is extremely proud of the team and honored them with special t-shirts and a delicious barbeque to memorialize this incredible milestone.
Congrats to the HHCI team, keep up the great work and safe practices!
HHCI is serving as prime contractor to construct a 400-member Army Reserve Center for the U.S. Army Corps of Engineers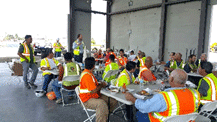 in Fresno, CA. This $25.4M project includes a Training Building (47,650 SF), Maintenance Building (14,500 SF), and a Storage Building (2,700 SF).
HHCI is proud to support to the Army with its key facility project program.