Riverside, CA – March 28, 2017 – The Southern California Minority Supplier Development Council (SCMSDC) and Southern California Edison awarded HHCI the 2017 Supplier of the Year Award in the Class IV category (representing firms earning over $50M in revenue).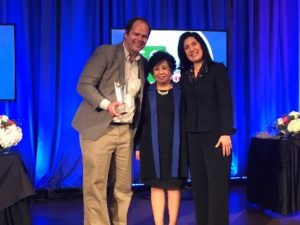 The Supplier of the Year Award recognizes Hal Hays Construction for its outstanding growth and development, employment and job creation, quality of operations, business performance, community service, overcoming obstacles, innovative approaches for clients, industry awards/letters of recommendations, MBE spend and more! The HHCI team has earned nomination for this prestigious award from Southern California Edison for 3 consecutive years. Most notable, only 3 percent of SCMSDC member firms earn nominations as a Supplier of the Year.
As the Class IV winner, HHCI receives special recognition by the council, a business scholarship to Kellogg School of Business at Northwestern University (sponsored by Toyota Motor North America), and now will be competing for the 2017 Supplier of the Year Western Regional Title.

The Western Regional winner will get the chance to compete for the National Title at the 2017 National Minority Supplier Development Council conference held in Detroit, Michigan.
HHCI would like to send a special thank you to Southern California Edison, Dennis Thurston, Supplier Diversity, Craig Hayman, Corporate Real Estate, Eric Fisher, Supplier Diversity, and all the Edison team for their continued support and guidance!
Also, thank you to SCMSDC for their ongoing support and for capturing this special moment!